Artists: Willis Humphrey, 2008
Please read the two posts introducing the
Philadelphia's Mural Arts Program
and
The Mural Mile
before you follow the photo tour. You can also begin the tour with the
First Mural
.
"Mapping Courage" is the last of the
17 murals
on the Mural Mile.
The full title of this mural is: "Mapping Courage: Honoring W.E.B. Du Bois & Engine #11".
William Edward Burghardt Du Bois
(1868-1963), portrayed in the left side of the frame below, was a
Harvard
graduate American sociologist, historian, civil rights activist, Pan-Africanist, author, and editor. For his 1899 paper, he surveyed blacks living in Philadelphia's
7th Ward
: His
"500 page report addressed black history, employment, housing, religion, crime, and family compositions. The census expressed a mix of harsh Victorian opinions on lower class blacks as well as insightful comments about racism and discrimination. His methods were ahead of his time, combining ethnography, survey methods, mapping and statistical analysis"
.
*
An influential writer, Du Bois fought racism all his life. He believed that capitalism was a primary cause of racism. He advocated for nuclear disarmament. He was against wars and remarked:
"The cause of war is preparation for war"
. Due to his socialist leanings and his opposition to nuclear weapons, Du Bois was a target of the
McCarthyism
campaign.
"Mapping Courage" stands on the wall of the
PFD
,
Engine Company No. 11
building. Engine 11 is one of the original 22 professional fire companies reestablished in 1871. Until the Philadelphia Fire Department officially
desegregated
in 1952, Engine #11 was Philadelphia's de facto African American firehouse.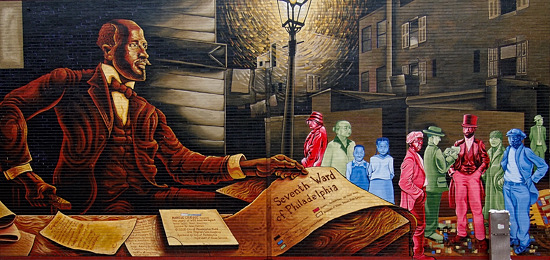 Song of the Day:
On The Road To Find Out
- Cat Stevens (1970)